Primary Drive Clutch Rebuild Roller Upgrade Can-am Defender Hd10 1000 2016-2021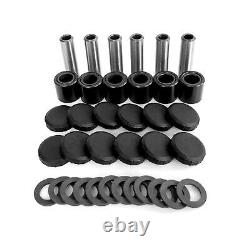 Upgrade to these custom metal rollers for improved clutch function. Cam shoe and plastic washer are made with Nylon PA66 + Teflon (PTFE) 20% + Fiber Glass 30%. Molybdenum disulfide (MoS2) 3% to have better wear resistance.
The OEM clutch roller was in plastic, which resulted premature failure rates. Our clutch roller is made of SCM415 Steel, and the inner liner is made up of Premium German Imported fiber. This increased the roller hardness to HRC 54 (+4); Far Superior to standard OEM Fiber. We do this improvement to make our Cam Kit last longer than conventional OEM plastic rollers.
The kit includes 6 custom metal rollers with bushings, 6 roller pins, 12 roller washers and 12 slider buttons. Outlander L Max 500 2015.
Outlander L Max 570 2016. Traxter Max HD10 1000 2018.
WE OFFER THE AREA'S LARGEST SELECTION OF AFTERMARKET ATV, MOTORCYCLE AND SNOWMOBILE PARTS & ACCESSORIES. WE LOOK FORWARD TO SERVING YOU! WE STRIVE TO PROVIDE YOU WITH THE BEST SERVICE POSSIBLE!
THANK YOU FOR YOUR BUSINESS & VISIT AGAIN SOON!

---